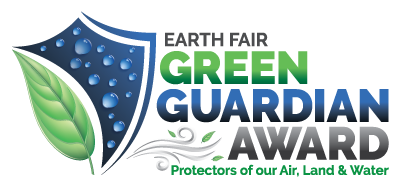 Calling all Green Guardians
Do you know an individual, business, group, school or classroom doing great things for our environment in the Blue Water Area? Are they a true Green Guardian? If you think so, we want to know about it! Is what you're doing helping to improve, protect or restore our environment? Self-nomination is encouraged so we want to hear about you, from you. It will only take a moment to complete our short nomination form. There's no other environmental award like this in the Blue Water Area!
Description of Achievement
In no more than 500 words, describe why the nominee deserves to win the Green Guardian Award for the selected category. The description should include the nominee's efforts and achievements, describe the actions of the nominee, and how their initiatives and/or efforts enhanced, preserved, restored and/or protected the environment. Photos and supporting materials are encouraged and may be attached.
Notes
Self-nomination is encouraged
Nominees must reside in St. Clair County
Only one recipient from each category will be selected
Nominations forms are reviewed by the Earth Fair Committee
Nominators will be notified in early April if their nominee was selected
Winners will be presented with their award on the Earth Fair Main Stage on Saturday
Questions? Contact

[email protected]
Award Categories
Business - recognizes businesses in St. Clair County for demonstrating dedication to environmental leadership and issues. Nominated businesses should be involved in promoting sustainability in the workplace or community, raising awareness of environmental issues with staff or customers, and/or reducing the business' impact on the environment.
Individual - recognizes a resident or family of St. Clair County for their commitment to the environment. Examples of award criteria may include: reducing consumption of non-renewable resources, recycling leadership, increasing home efficiency, reducing carbon footprint, cleaning up an outdoor area, opting for local/sustainable food choices, and following natural lawn and gardening practices.
Group - recognizes the environmental contributions that a group has made resulting in increased environmental awareness of environmental issues. A group may be youth or adult service clubs, scouts, church, community group, social clubs, neighborhood, or 4-H group.
School/Classroom - recognizes a K-12 classroom or school involved in environmental initiatives that have resulted in a cleaner, greener property or neighborhood. Examples of initiatives could include waste reduction and recycling, energy conservation, fundraisers, specific school or classroom projects, and public education.
Each winner within the award category will receive a $100 Visa gift card
2022
Business: Lavender Creek Farm, LLC
Individual: Don Strauss
Individual: Mike Schuler
School: Lee Elementary Green Club
School: Memphis Elementary School Makerspace/STEAM Lab
2019
Individual: Kay Cumbow
Group: Memphis Lions Club
Non-Profit: Community Enterprises of St. Clair County
Business: Kate's Downtown and The Boathouse by Kate Voss
School: Woodland Developmental School - Michelle Ebmeyer's Classroom
2018
Group: Blue Water Audubon Society
Business: Blue Water Area Transit
School: Gardens Elementary, Marysville
2017
Individual: Bob Hunckler
Group: St. Clair County Road Commission
Business: U.S. Farathane, Port Huron
School: Woodland Developmental School - Classroom 216