Goodells County Park
Earth Fair is held at Goodells County Park, located at the center of St. Clair County in Wales Township, close to I-69, just 15 minutes west of Port Huron. This beautiful park features a historical village, butterfly garden, picnic pavilions, playgrounds, a splashpad (not open during Earth Fair) and the beautiful Pine River.
Earth Fair is held in the three Exhibit Barns (large white buildings) adjacent to the North parking lot. The easiest route to get to the Earth Fair is to use the north entrance gravel drive directly off Lapeer Road. Entering the park at the main entrances from Castor Road or Goodells Road will take you to the East lot and Center lot overflow parking areas. It is a longer walk to the event from these entrances, although free shuttle and trolley services are provided from the overflow parking lots.
Download a map of the Goodells County Park Property
Visit the Goodells County Park website
Blue Water Area Transit
The Earth Fair shuttles operate on natural gas and electric, which provides great reductions in pollution. The benefits of using natural gas include a 95% reduction in the amount of soot and a 21% reduction in other greenhouse gases. Blue Water Area Transit added two electric busses to its fleet. Taking public transit or carpooling is one of the Top 10 Actions to reducing your carbon footprint.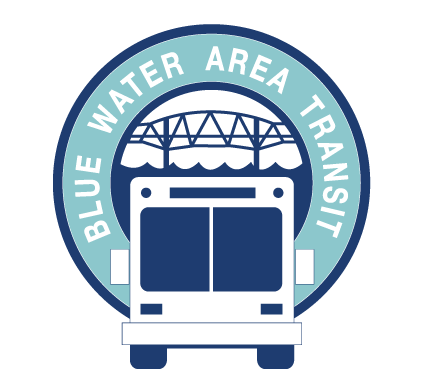 Free Earth Fair Shuttle
Ditch your vehicle in the spirit of Earth Day! In partnership with Blue Water Area Transit, we are challenging Earth Fair visitors to reduce their carbon footprint and take advantage of our exclusive Earth Fair shuttle. If you've never done it, families rave about what a great experience it is.
FRIDAY • 9am-4pm
Spend 2 hours at Earth Fair
Meet at any of these locations at 8:30am, 10:30am, or 12:30pm
Free service from Maritime Center, Downtown Bus Depot, and Vinckiers in Wadhams
Last bus leaves Goodells County Park at 4pm
SATURDAY • 10am-4pm
Free non-stop shuttle service all day
Meet at the Maritime Center, Downtown Bus Depot, or Vinckiers in Wadhams
First bus departs at 9:30am, last bus leaves Goodells County Park at 4pm