Exhibitors
We're glad these exhibitors have chosen to spend Earth Day with us because they form the heart of Earth Fair. Please show your support for them by not only shopping or learning from them once a year, but all year long! Let them know you saw them at Earth Fair; they would love to hear from you! In fact, Earth Fair can be a significant source of funding for many of the non-profits and small family businesses, so purchase gifts for yourself or others and be assured your money is staying local and supporting a good cause.
A full list of Exhibitors will be posted in March.
Event Map
Earth Fair is held in the three Exhibit Barns and the Visitor's Center adjacent to the North parking lot. Click the map to download a PDF.
While dogs are allowed at Goodells County Park, dogs are NOT allowed inside the Exhibit Barns or Visitors Center.
Items lost during Earth Fair are turned into the Main Stage. Items to be claimed after the event will be held with Goodells County Park staff.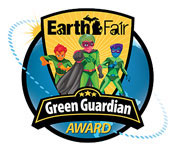 Green Guardian Awards Ceremony
Main Stage • Saturday • Noon
We will present awards to Earth Fair superheroes that have demonstrated initiative to enhance, preserve, and protect the Blue Water Area. Who will our Green Guardians be? Please join us in congratulating their achievements!
---

Tree and Shrub Sale
Friday and Saturday - West Barn
It's spring tree ordering season! The Blue Water Conservation District is selling a variety of bare-root evergreens, flowering trees and shrubs, hardwoods and native wildflowers. Pre-orders can be placed until April 4th, or a limited supply will be available for sale at Earth Fair.
---

Butterfly House Exhibit
Friday and Saturday - Visitor's Center
This Butterfly House exhibit provides a memorable and unique experience for our Earth Fair visitors. Experience the joy of walking among live monarch butterflies and enjoy their beauty as they fly inside a screened enclosure while you hand-feed them. Examine butterflies up close in all stages of their life cycle.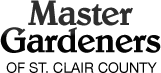 ---

Earth Talks
Saturday, Columbus Bible Church
Join us every half hour at Columbus Bible Church in the Historical Village for educational presentations. These are 20-minutes, general seating, and open to all ages.
---

Sheepshank Sam
Friday and Saturday • Outdoors
Meet Sheepshank Sam, a teller of tall tales and old time lumberjack from Michigan's northern wilderness. Participants will learn how trees were felled, cut into logs, skidded out of the woods, and floated down the river to the sawmill. Try your hand at cutting wood with a 4' cross-cut saw!
---

Trolley Rides
Friday and Saturday
Jump on our tractor-pulled trolley at the Cargill Main Stage area and go for a ride through the Historical Village. The Trolley also makes stops at the parking lots, restrooms, and playground. Ride as often as you like!
---

Historical Village Tours
Friday and Saturday
Stroll through the beautiful restored buildings on the Historical Village grounds. Wales Historical Society members will be offering tours of several buildings. The Village is within easy walking distance from Earth Fair and accessible on paved pathways.
---
Saturday Earth Talks
On Saturday, listen for the ringing church bell and join us every half hour at the Columbus Bible Church in the Historical Village for educational presentations. These are 20-minutes, general seating, and open to all ages.
The Earth Talks schedule will be posted in March.